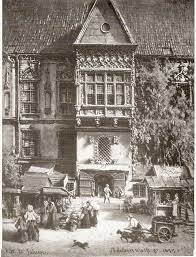 Piwnica Świdnicka is a unique place – the oldest representative city inn in the world, whose beginnings can be sought as early as in the 13th century. Located in the very heart of Wrocław's Market Square, in the historic Gothic cellars of the Old Town Hall, it has been open to all those with a thirst for good beer and food for over seven centuries.
In its long history, the grandmother of all Wrocław restaurants has welcomed millions of guests within its walls, including many known from the pages of textbooks and encyclopaedias: crowned heads, artists, scientists, philosophers and athletes. It has witnessed great historical events, multiple border changes and countless human stories, told in all languages.
One thing that has remained unchanged about Piwnica Świdnicka to this day is that it is the beating heart of the capital of Silesia and anyone who, for whatever reason, finds themselves in the town on the Oder should visit it and get to know a place where hundreds of years of history merge with the present day.
Emblematic of the venue, delicious beer has been made on site in a specially installed brewery since 2022. Those hungry for culinary delights, on the other hand, can savour delicious dishes. On the menu, you will find numerous inspirations from the classic dishes served in the past on the tables of Piwnica Świdnicka, as well as a selection of the best of contemporary Polish and world cuisine.
However, Piwnica Świdnicka is not only a feast for the palate and a must for anyone interested in the history of Wrocław – it is also a space for cultural events, concerts, exhibitions, meetings with authors and professional training sessions and workshops. The extensive offer of Piwnica Świdnicka includes something for everyone.
Whether you want to organise a wedding, a corporate event, an anniversary dinner or simply come for a pint of delicious beer – we welcome you with open arms and are happy to have you as our guest.